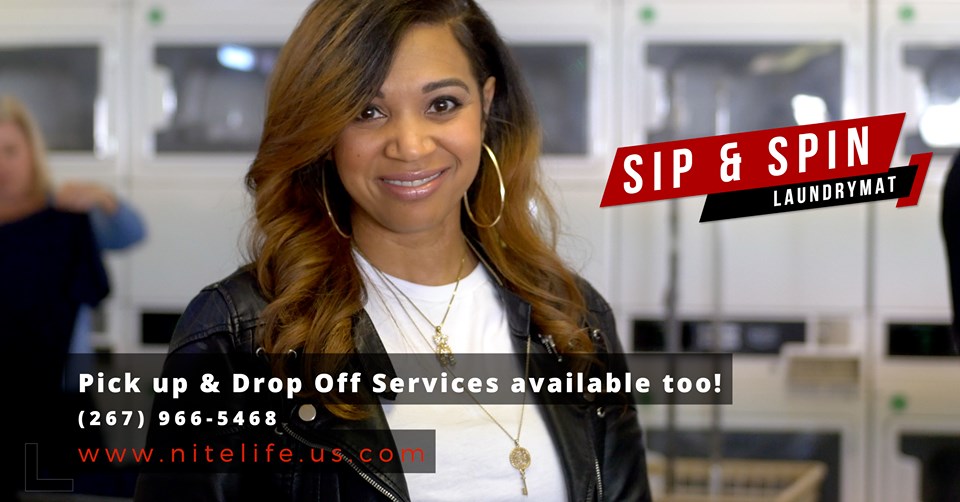 "NO MORE SITTING AROUND WATCHING YOUR LAUNDRY WASH & SPIN!"
What Sets Sip-N-Spin Laundrymat Apart From All Other Laundromats?
Sip-N-Spin Laundrymat is a full-service coin-op laundromat that provides customers with reliable machines, enjoyable party theme atmosphere and competitive pricing. Although the focus of Sip-N-Spin Laundrymat is a washing and drying service, we will offer our clients the convenience of other services at one location.
Check Out Our Prices & Services Listed Below.
Normal Wash $2.50
Super Wash $3.00
Front Load Wash $5.00
Dryer $.25 (7mins)
Wash And Fold Services:
You drop off your clothes and we will wash and fold them for you! Then all you have to do is pick them up, take them home and put them away!! Or you can schedule a pickup and return ride for you and/or your laundry for an additional charge!!
Free pick up & delivery is available in Morrisville within 2 miles of Sip-N-Spin Laundrymat. . There will be an additional charged for 2 miles or more from Sip-N-Spin Laundrymat. $0.99 Per Pound $1.00 Per Pound With A 10 Pound Minimum For Blankets, Robes & Similar Items.
Our Services:
Full-Time Staff
20 Pound Maytag Top Load Washing Machines
30 Pound ADC Front Load Washing Machine
20 Pound Maytag Front Load Dryers
Wash Supplies
Laundry Baskets
Folding Counter & Removeable Folding Tables
Money Changer
Lounge & Eating Area
Flat Screen TV's
Vending Machines
Air-Conditioned Space
Transportation Service
Accessible Parking
BYOB Status
Facility Rental
Online Reservations